Assoc. Prof. Ghamgeen Izat Rashed
Wuhan University, China
Brief introduction
Ghamgeen I. Rashed was born in Sulaimani-Iraq, on Sept. 16, 1974. He received his B.Sc. in Electrical Engineering in Salahaadin University-Iraq at 1995, his M.Sc. in Sulaimani University-Iraq in 2003, and his Ph.D. degree in power system and its automation, from Huazhong University of Science and Technology (HUST), China in 2008. Now he is assistant professor at Wuhan university, school of electrical engineering, and Automation, Wuhan University, china. His special research of interest in AI and its application to the power system, FACTS devices specially TCSC and its control.Rashed already published more than 40 SCI and EI papers, he already take part in more than 25 international conference and invited as keynote speakers and paper presenters.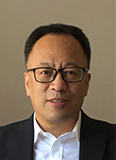 Prof. Zhi Zong
Dalian University of Technology, China
Brief introduction

Professor Zhi Zong received the Ph.D. degree in Dept. of Naval Architecture and Ocean Engineering, Hiroshima University, Japan, in October 1995. He is a professor and doctoral supervisor in the School of Marine Engineering, Dalian University of Technology, China. From July 1999 to June 2004, he was the Principal Research Engineer of the Underwater Explosion division Institute of High Performance Computing, Singapore. From April 2004 to June 2004, he was the Scientist of the Agency for Science and Research, Singapore. He is also an adjunct professor at Tsinghua University, China, the director of Liaoning Province Technical Lab for Deepwater Floating Structural Engineering, China, and the vice chairman of Liaoning Society of Naval Architects and Marine Engineers, China. He has published five monographs, three of which are in English, 113 journal papers indexed by SCI_Core, 10 conference papers indexed by SCI_E and 136 papers in Chinese. His research interests include Fluid Mechanics, Hydrodynamics, Nonlinear water waves and wave-structure interaction, High performance ships, Underwater explosion and Vortex-induced-vibration.
Assoc. Prof. Shuzheng Sun
Harbin Engineering University, China
Brief introduction
Shuzheng Sun , Yantai, Shandong Province, Ph.D. in engineering, is an associate professor and master's supervisor at Harbin Engineering University. he stayed at the university as a teacher after his Ph.D. graduation in September 2010, and worked as a postdoctoral researcher at China Shipbuilding Science Research Center from 2011 to 2013, and visited Stavanger University in Norway from December 2016 to June 2017. He is responsible for more than ten national defense pre-research projects, National Natural Fund projects, Ministry of Industry and Information Technology high technology ship projects and various horizontal projects. He has published more than 30 academic papers, including more than 10 SCI-retrieved papers, 3 national defense invention patents, 2 applications, 1 international invention patent application, and 4 national software copyrights. His research achievements have been awarded one National Science and Technology Progress Special Prize, one Heilongjiang Science and Technology Progress Second Prize and Third Prize each, and one National Defence Science and Technology Progress Second Prize.